LEAP's HAF Summer Camp 2021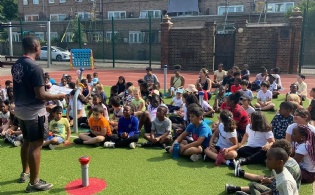 The LEAP Summer Camp that ran at Mandeville for Mandeville and Kingsmead children, was a tremendous success.....
The free Summer Camp ran four days a week from 10am to 2pm for the first four weeks of the Summer holiday— and offered a range of healthy and fun activities such as sports games, cooking, football, dance & Afro Fusion dance, art with Art Hoppers, music, running games, gardening and more....Every child attending received a free delicious hot lunch.
As you can see from the photos, all the children who participated had a fantastic time and were able to choose different fun and interesting activities that supported their physical and emotional wellbeing, as well as enjoying time being sociable with new and old friends.
Our thanks to all the staff who helped organise and run the Summer Camp and thanks also to Hackney Council who made running this LEAP Summer Camp provision possible.