Celebrating Diversity at Kingsmead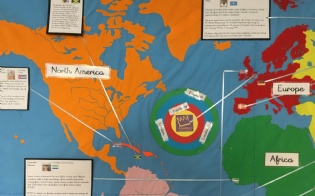 What global connections do you and your family have? We are mapping Kingsmead school community's heritage and cultural links.........
We have been updating the large world map display in our Reception area and using it as a focal point to celebrate our community's diversity and the rich and varied heritage that many of our families enjoy. We have always valued the fact that Kingsmead families come from or have connections to so many different parts of the world. Our Learning Mentor Paul, has been talking to individual families about their heritage and finding out if they would like their connections to be featured in our display.
So far we have information on connections across most of the continents— from Ethiopia, Vietnam, Australia, the Philippines, Spain, Germany, Somalia, Jamaica, Cuba & Pakistan and Paul has unearthed some very interesting details from families he has spoken to. Did you know that;
· Anzel's great, great uncle was the president of Somalia in the 1990s
· Lots of Gabriella's family live in the diamond mining area of Sierra Leone
· Inigo's family have connections to Spain, Germany & the Philippines!
Children, staff and visitors have been really enjoying reading the information on our new Celebrating Diversity map and it is lovely to share and celebrate the connections our community has all over the world. Kingsmead's reach is global! Our Celebrating Diversity map also really helps bring geography alive for the whole school, making real global connections for children and developing their geographical knowledge.
"It makes me feel very proud to be part of a school and community that represents my heritage" Ammara's mum
"I am Sierra Leonean and my daughter was born in England. I think it's important that our cultures are taught and recognised. I am very proud that Kingsmead have taken time to represent diversity within the school" Gabriella's mum
Kingsmead families who would like to share information, celebrating their family's heritage and culture, to feature on our map should contact Paul by sending an email with WORLD MAP in the subject line to: admin@kingsmead.hackney.sch.uk