Dynamix perform at Windrush Day celebrations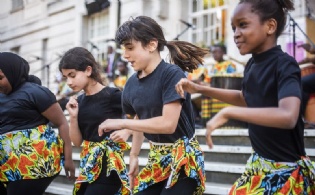 Wow! What a great performance from our talented Dancers and Drummers outside Hackney Town Hall.....
Kingsmead's Dynamix gave an amazingly energetic and electrifying performance on the steps of the Town Hall on Wednesday 22nd June at Hackney Council's Windrush Day celebration event and they were met with thunderous applause from the audience. We are very proud of them all. Thank you to all the staff who accompanied the children, came to watch them and the many parents and carers who came to support! Huge thanks also to Ms Harley and Aaron who have taught the children so well.
Jamai a year 5 drummer said "I was nervous to drum in front of so many people but I was proud to drum for Miss Harley and the Dynamix. There were thousands of people there!". Sofiat year 5 dancer said "It was really fun dancing, I could see my family watching. They were lots of other people from the Windrush there and we saw the two statues. My dad talks a lot about the Windrush and Caribbean people."