Our JRSOs & School Council create Roady Safety Music Video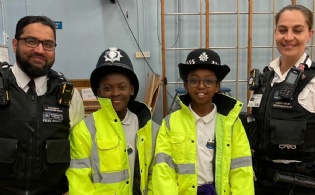 Our JRSOs worked with the School Council to create a fantastic Road Safety music video!
At an assembly this week our Junior Road Safety officers showed a Road Safety music video they had created with the School Council at a special Road Safely assembly. They were joined by three special guests came along to stress the importance of staying safe on the roads:
Max Moorcox, Road Safety Officer for Hackney Council, PC Adel Groenewald and PC Mo Uddin. After the visit Max posted the following message on his Insta "Just came from the official premier of our awesome Kingsmead JRSO team's road safety music video. Outstanding work by them, the school council and their staff to go above and beyond for their young people".
You can see the music video that Kingsmead's school council and JRSO's made below