Steel Pans perform at Tower of London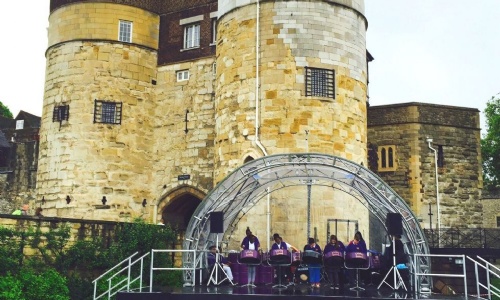 Kingsmead's Year 6 Steel Pan players performed at the Tower of London as part of the Water City Music Festival
Kingsmead's Year 6 Steel Pan players were invited to take part in the Water City Music Festival and perform at the Tower of London. They played three twenty minute sets on Tuesday 14th June at the Bowling Green in the Tower on a special stage put up for the festival. Michael Bochmann, the Festival's director wrote to Ben our Creativity Leader with the following comments:
"That was a wonderful set of performances to day. Thank you so much for coming. I can't tell you how much we appreciated it and all the first class playing by the children. Fantastic!"
An artist working on a large scale mural documenting the Festival sketched our Steel Pan players while they played.