Our First Spanish Week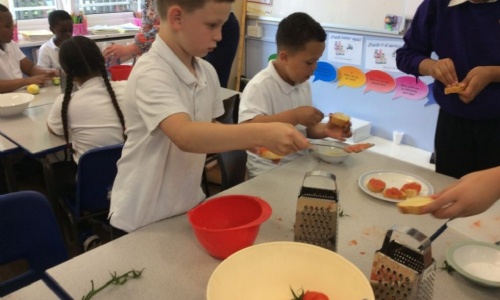 Find out about our first ever Spanish Week, which took place last Summer Term....
Hola! 2016 was the first year that we have held a Spanish Week and it proved to be a fabulous success. During the week which ran at the end of June, all children worked in class on different Spanish related topics from maths to art, with extra-curricular activities organised for out of class. On Monday each class in KS2 took it in turns to make (and eat!) popular Spanish and Latin American food and drink, including guacamole, pan con tomate and limonada. On Tuesday children were taught the traditional Spanish dance Flamenco and on Wednesday they took part in new and exciting Spanish games. The week ended on a high with a trip to the Rio Cinema for a Mexican film along with 'churros y chocolate' and Spanish tapas. A great time was had by all, which we hope we can repeat next year. Adios, hasta luego! Thank you Sarah and Francoise for organising such a great week.