Year 6's school journey 2017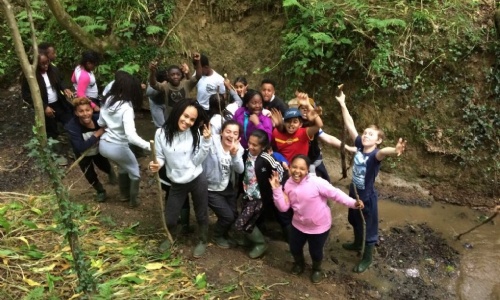 Year 6 had a fantastic week on school journey at Kench Hill this year......
We had a fantastic week on school journey at Kench Hill this year. We arrived on the Monday just before lunch time and had a short time to settle into our rooms and explore the house and gardens. After a delicious lunch we changed into our wellies and Sandi took us on a two hour stream walk through the woods and surrounding area - we paddled in the stream and ate some wild garlic and leaves that tasted strangely of strawberries. The following day was a rainy one but luckily we had lots to do at Kench Hill. We did bread making, orienteering and gardening where we learned about plants and helped to pick the beans and potatoes for our dinner that evening.
On Wednesday we split into two groups and while one group went off to the beach in the morning the other stayed and built shelters and rafts to get across the pond. In the afternoon we swapped over and the beach was so incredibly windy we could hardly see. Luckily we found a sand dune to shelter in and do some digging and some very brave children even had a dip in the cold sea.
Thursday was a fabulous day at the Rare Breeds Centre where we managed to touch lots of the baby animals and take part in our very first pig race and in the evening we had a big bonfire and roasted marshmallows round the fire. We returned to Kingsmead on Friday tired but happy. What a trip!
Anthony said of the pig race " I was communicating with the pig—the pig was working with me to win the race...we came second!" Saisha said " The stream walk was great– it was muddy and splashy and really, really fun. We all thoroughly enjoyed it!" "The beach was a lovely experience, even thought the sea as a long way out. I got buried in the sand—it was very funny….extremely fun in fact!" said Rekqo.
A big thank you to Sarah, Jesse, Julia and Ibz, the staff members who went on the trip. More photos are in the photo gallery section of the school website.