Collaborating Artists
Joelle Taylor
Kingsmead has been very lucky to work on a number of projects with the poet and spoken word artist Joelle Taylor, who has over the years, worked with many year groups in the school.
Joelle's original brief at Kingsmead was to engage reluctant writers and engage them in a love of spoken word and then encourage them to set those words down on paper and perform them. She achieved this through her dynamic performance style which engages children and staff alike.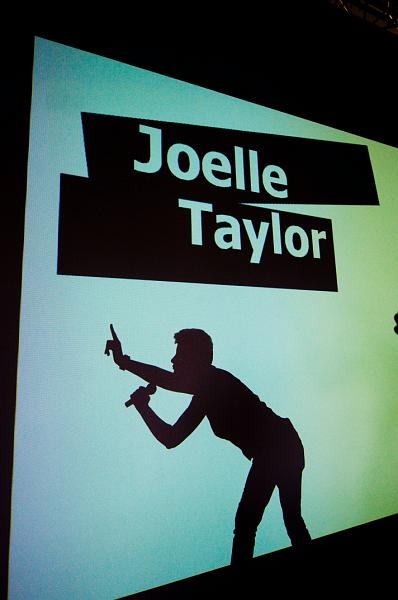 She has taught staff and children to beat box and to enjoy the sounds but to focus on what needs to be said. Joelle has worked with children in home languages and taught them to be proud of their own linguistic traditions and she also undertook workshops with parents & carers too and has encouraged and supported the whole community to produce some extraordinary work. She has worked with classes to produce podcasts.
Joelle's work with Kingsmead children was a large element of 'Kingsmead Eyes' and also featured in the first Hackney Primary school slam, held in the summer of 2010 at the Rio cinema. This evolved in to an annual Slambassadors event. A short film about Joelle's works to develop both teachers and childrens skills can be viewed on the video commissioned by Creative Partnerships - A New Direction - called Wordswork. Click here to see.
You can also see another short film called Connecting with Language Through Rap that was made about Joelle's work for Japan by clicking here.
Gideon Mendel
The photographer Gideon Mendel has worked in collaboration with Kingsmead School on photography projects since 2009. As well as working with pupils on the Kingsmead Eyes photography project Gideon also took photographs of life both in the school and on the surrounding Kingsmead Estate over a period of several months. These photographs were featured in the national press and in the Kingsmead Eyes exhibition at the V& A Museum of Childhood.
To find out more about the Kingsmead Eyes project click here
To find out more about Gideon Mendel's work click here.
Gideon and Joelle were key artistic partners on the Kingsmead Eyes Speak in the summer of 2011, which was also funded by A New Direction. The following is from an e-mail sent to Louise following an evaluation visit by Creative Partnerships - A New Direction
I just wanted to share my feelings with you quickly. I was really struck on Friday with where the school is at in regards to this work. The response of the students was simply breathtaking. Their ability to move within an hour from a political argument about leadership and the ongoing tensions in relation to radical islam and the UKs relationship to this to authoring and performing powerful personal poetic response and reflections on these issues was perhaps the most impressive hour of creative learning I have experienced in 15 years of practice. It wasn't the best prepared session I have ever seen nor the most polished in regard to well drilled kids, but that is what makes it all the more impressive. It was the ability and confidence of all involved to work so spontaneously, the fact that those young people are able to work in that way and the trust that exists between all involved. This is the result of a process that is about more than planning and prep, this is about, over time, communicating and embedding an ethos and approach to creativity that I feel is up there with the likes of Room 13. Much respect to you all!!!!!!!

I know we still have a lot more work to do this year and of course will move on again, but I feel you have achieved something quite special and I wanted to share that thought with you.

Matt Gould

Creative agent - A New Direction