Kingsmead Eyes Speak
Kingsmead Eyes Speak 2011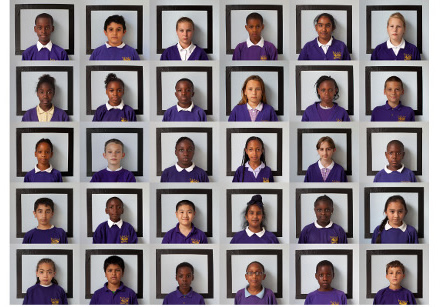 In 2011 Kingsmead School ran an exciting collaborative photography project, Kingsmead Eyes Speak, involving the then Year 5 class and a number of parent/carer workshops. Photographers Gideon Mendel and Crispin Hughes and poet Joelle Taylor worked with children and parents to create a body of work now featured in an interactive website which can be seen by clicking here. Kingsmead Eyes Speak gives a photographic and poetic portrait of the school's vibrant and diverse community as seen through the eyes of one class of pupils. In addition to the photographic and oracy skills the participating children acquired, the project developed their critical skills and self-esteem, while celebrating and promoting understanding of the different lives and cultures within both the classroom and the local community.
Kingsmead Eyes 2009
Kingsmead Eyes Speak follows on from the 2009 project called Kingsmead Eyes, which again involved the then Year 5 class working in collaboration with the photographer Gideon Mendel. The photographs that came out of this project received world wide acclaim and were exhibited at the V&A Museum of Childhood and featured in the Family section of the Guardian. Some of the results can be seen in a video created for the project by clicking here.
What the papers and others said about Kingsmead Eyes can be read below.