Punchdrunk at Kingsmead
Mrs Weevil's Bric-a-Brac Shop
Punchdrunk, the immersive theatre company, collaborated with Kingsmead on a whole school creative project. Over the course of a weekend a mysterious bric-a-brac shop appeared in the school's outbuilding in the playground , owned by the welcoming character of Mrs. Weevil. Every child in the school received an invitation to visit Mrs.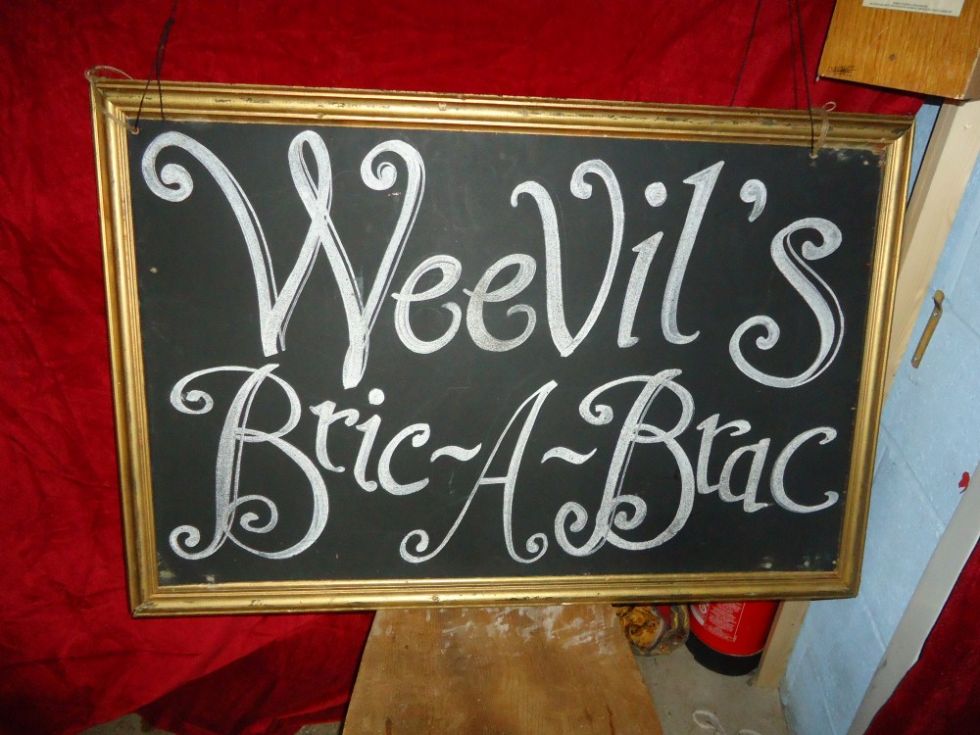 Weevil in her shop and listen to her fabulous stories. While visiting Mrs Weevil the children were given a special moonjuice drink to help them become storytellers and were told about the importance and power of their imaginations. They were able to explore the bric-a-brac shop and all the exotic and strange objects in it, which included characters from the book "Who are you Stripy Horse?" which every class was already familiar with, having read it earlier in the term.
After visiting the shop, the children were escorted to the 'Talking Zone' another transformed school space, where they could talk, draw, make and write about their experience in the bric-a-brac shop. Parents, carers and staff were also allocated time to visit the Bric-a-Brac shop and listen to Mrs Weevil and the feedback from all who visited the shop was incredibly positive.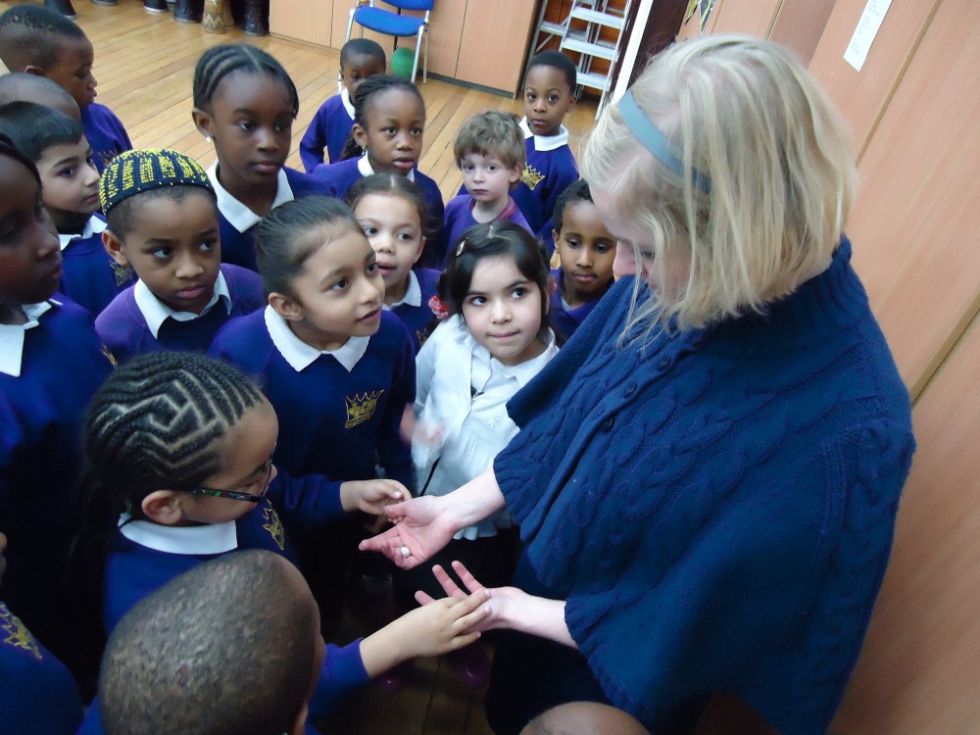 Back in class, teachers embraced the arrival of the bric-a-brac shop as a fantastic opportunity to get their classes to draw, write, act, speak and listen to each other, and everyone got busy, engaged in writing and telling their own stories about the objects and characters from the shop.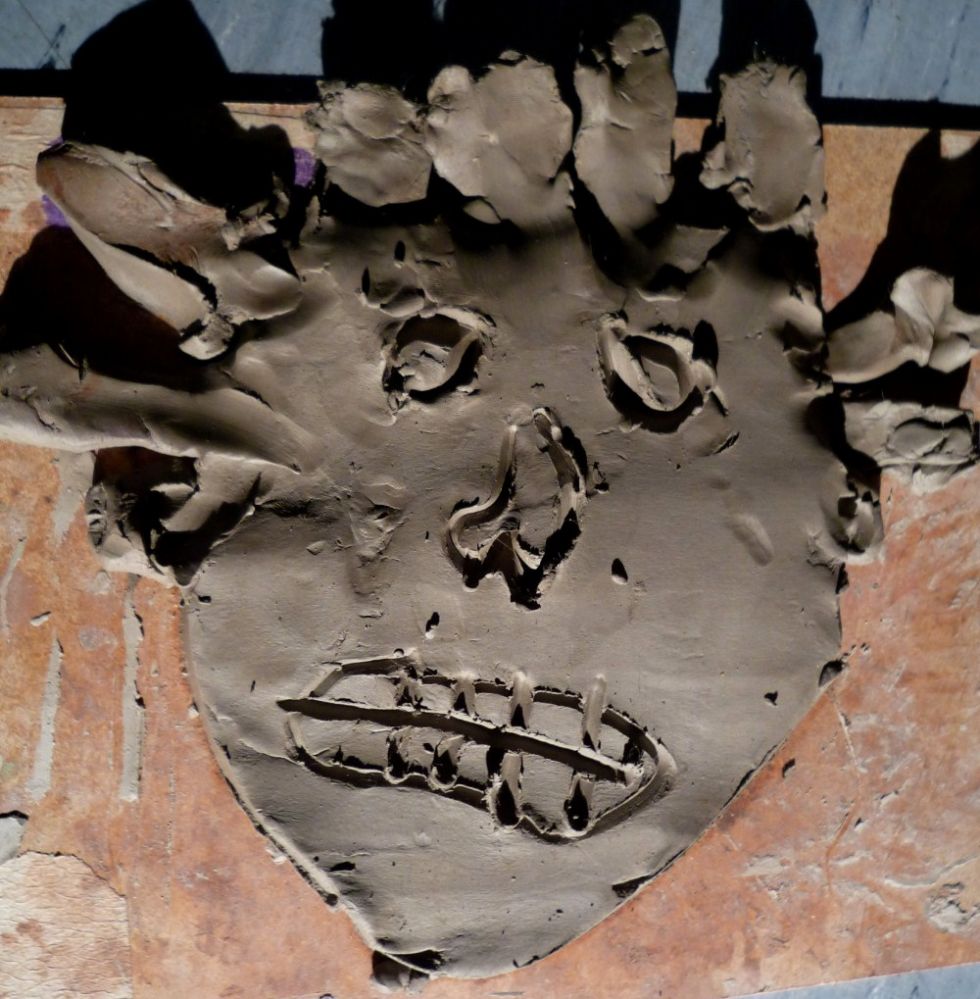 "That was the best think ever. This is the favourite school day ever" – Yr 5 child
"It was more than good. It was perfect……I was going to ask if it had always been there but it hasn't" - Yr 4 child.
"I got lost- she told me to be the brave one. It felt good" - Yr 6 child.
"We went and did magic – it was real magic and then we had to be quick cos it time for lunch" - Yr 1 child in corridor.
"I've been listening to all the wonder" - Yr 3 child
"I feel full of stories – I think I can be a storymaker, I think I can make up poems because of that wonderful drink!" – Yr 4 child in the TalkingZone, when asked how he felt.
"I feel something in my tummy – it's tickling me in my tummy. It's making me feel I can do anything I want to do, like write poems, draw, use my imagination" – Yr 4 child
"The children were transported and captivated by the experience. They were very clear that the moon-juice would soon make their imaginations create fantastically" - Year 1 teacher.
"Just incredible – the kids were in a fantasy world" - Year 5 teacher.
"It had a huge impact on speaking and listening with some children speaking with enthusiasm for the first time in school. Children really wanted to speak about their sensory experiences and describe how they felt" - Reception teacher.
"Now the world feels full of sparkledust. Inspirational….!" - Parent/carer
"It was lovely – and very, very magical – like being a kid again…it was strange & amazing!" -Parent/carer
Below are some photos of children in the Talking Zone and some of the things they created after visiting Mrs Weevil's shop. To the left of this page are further examples of work created by the children linked to this project .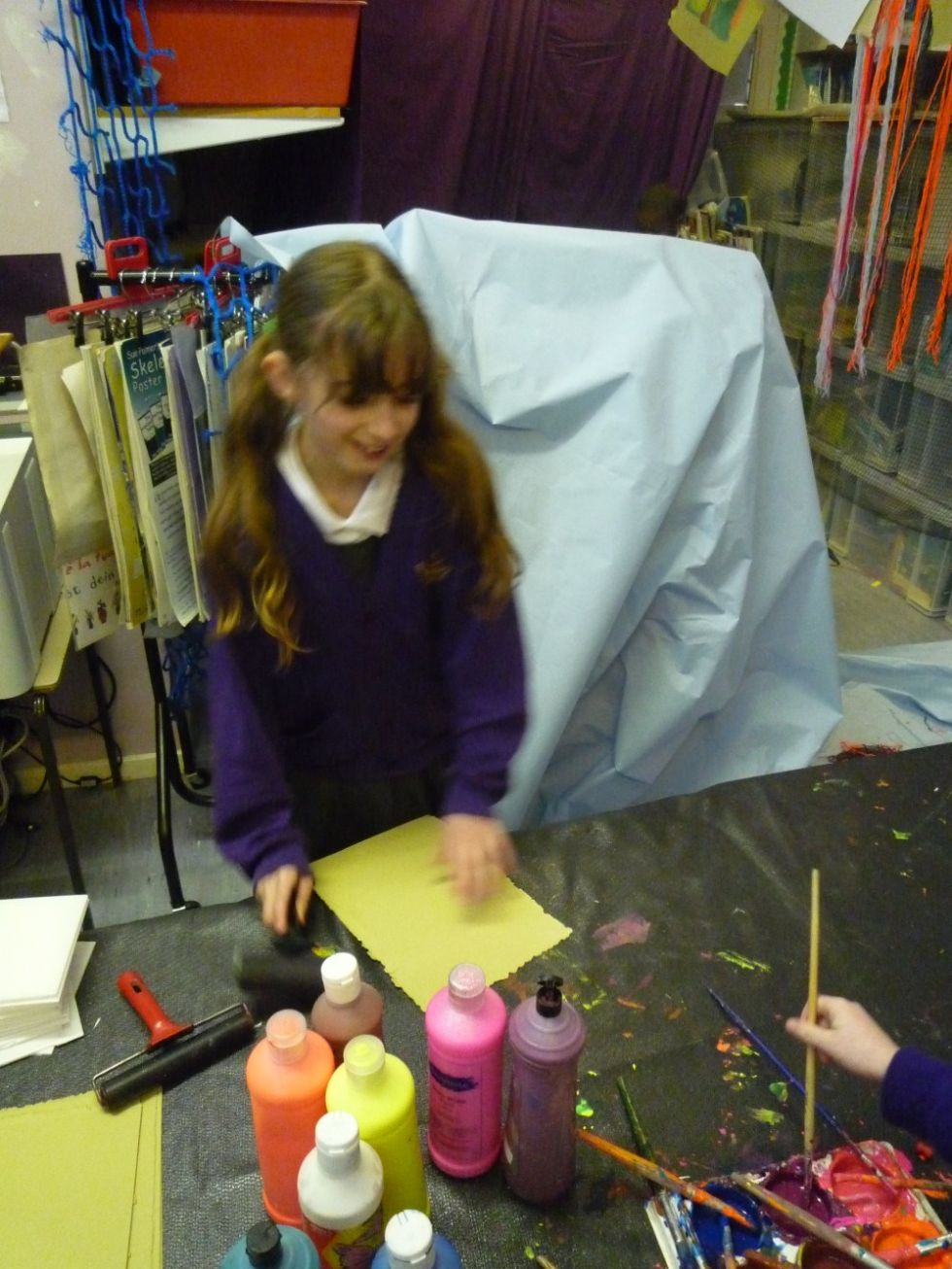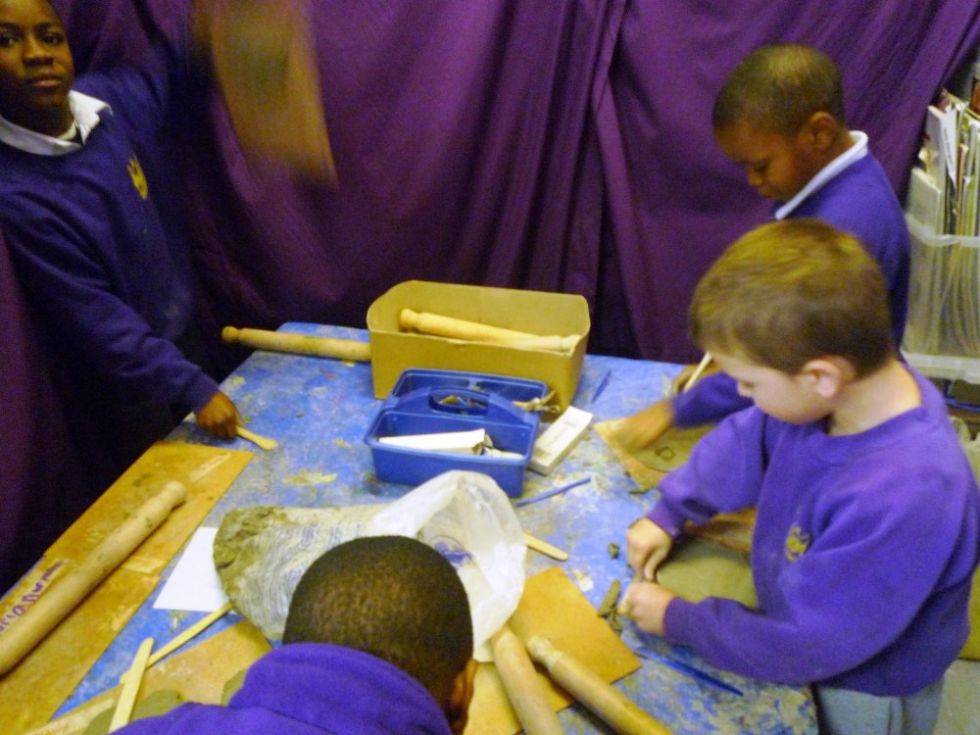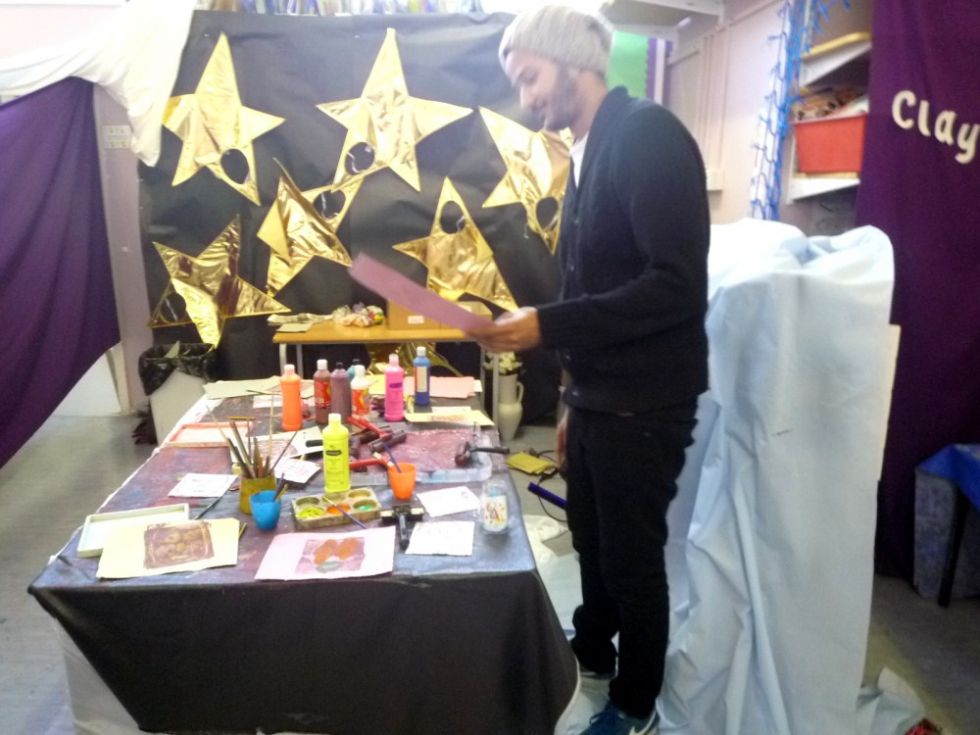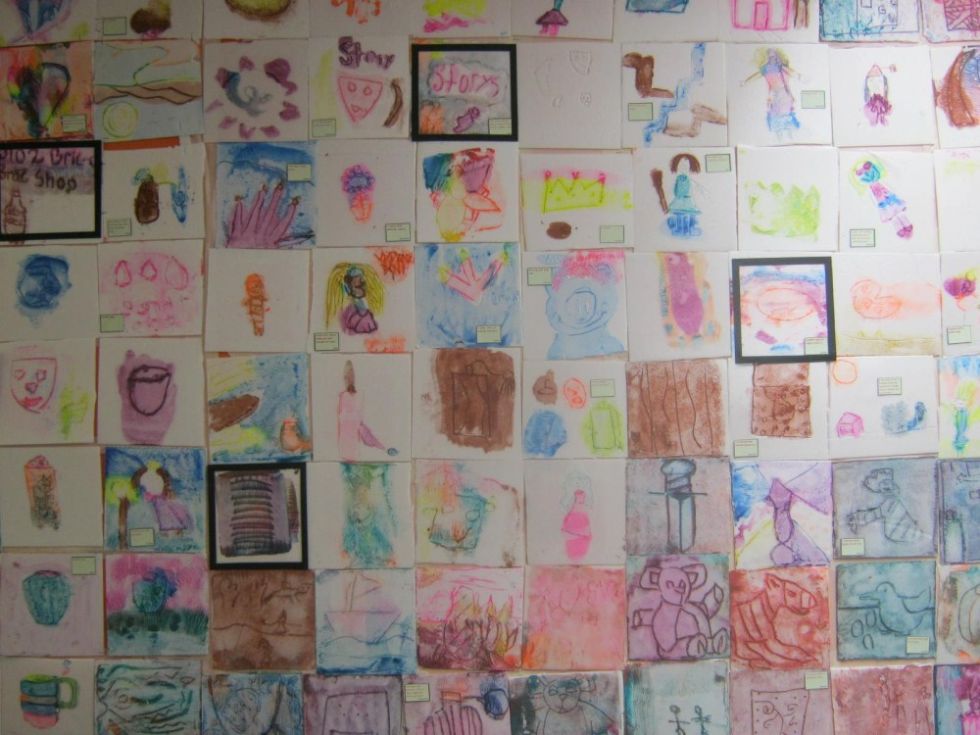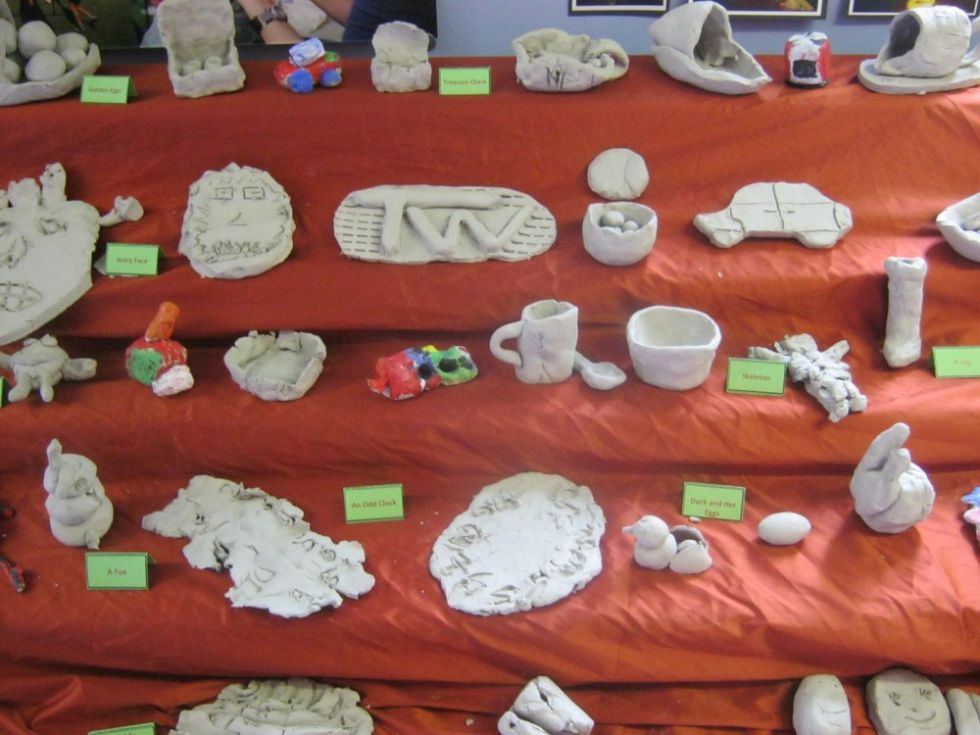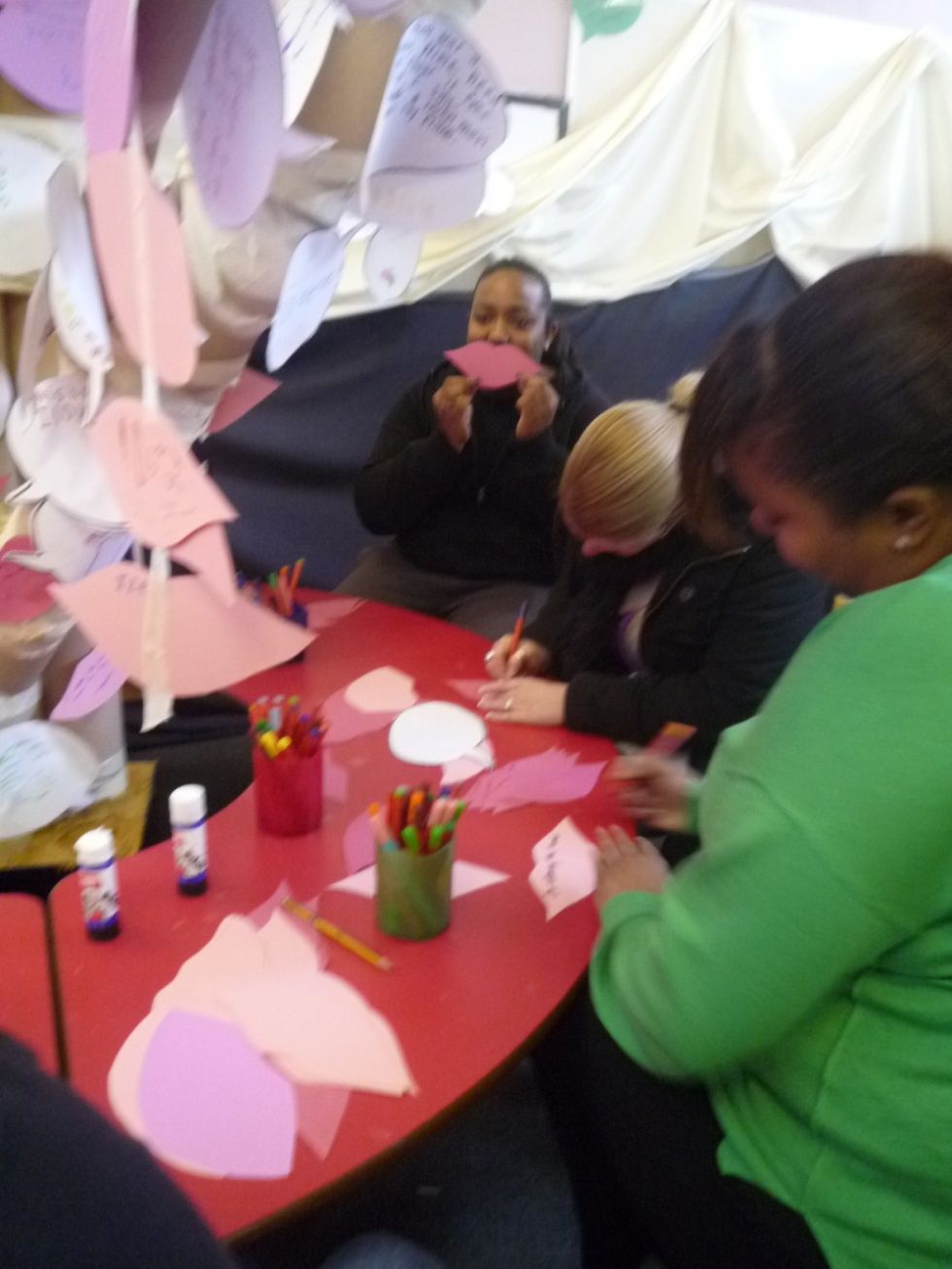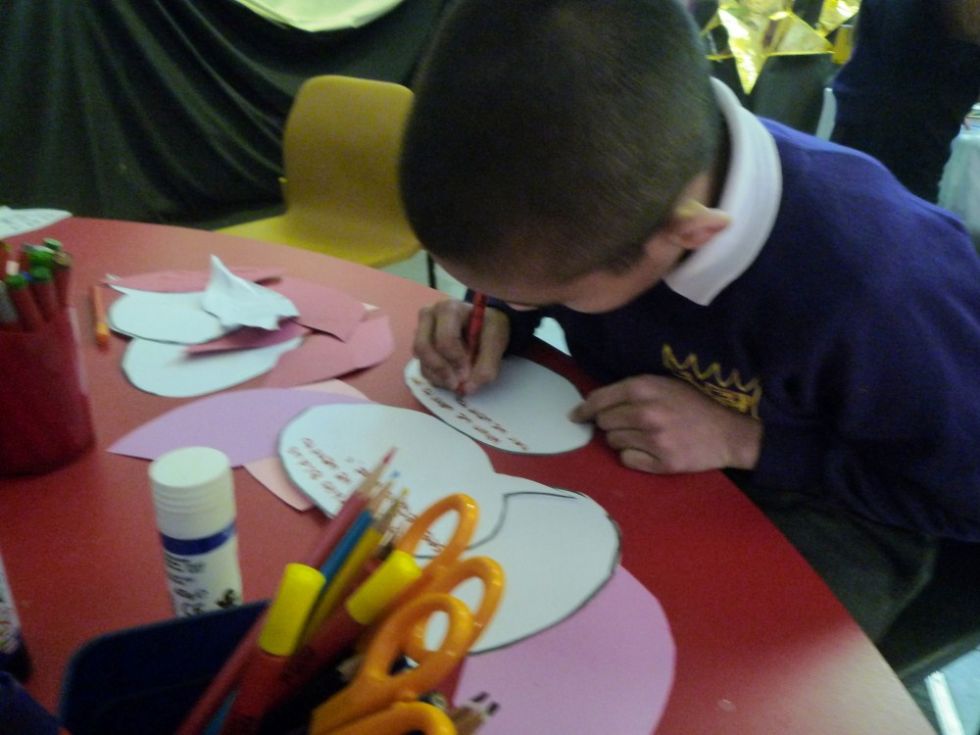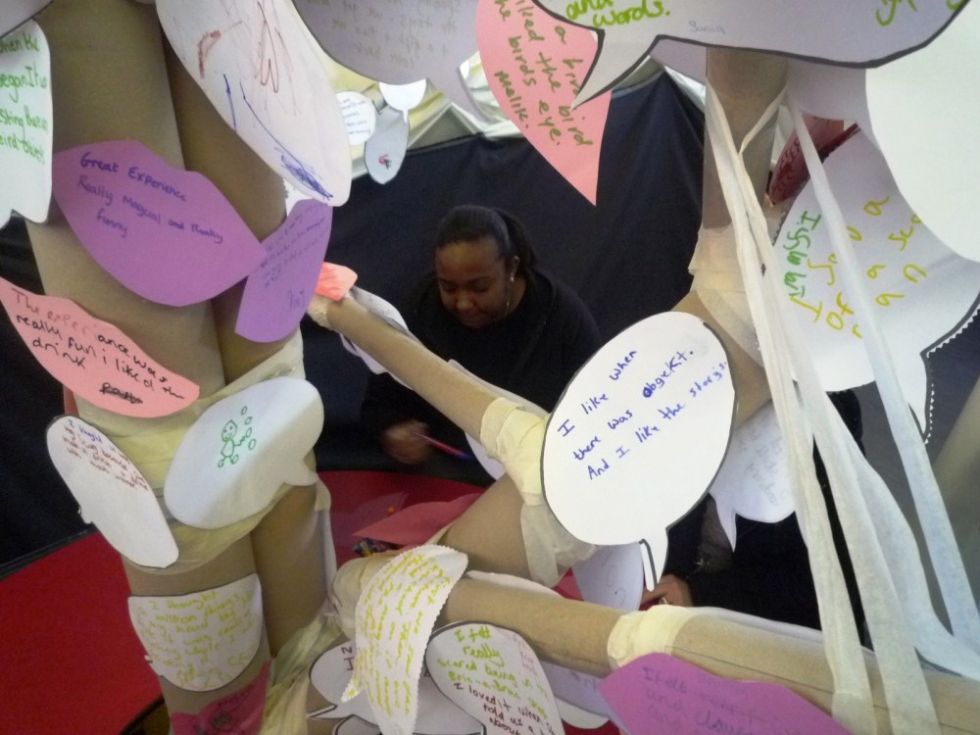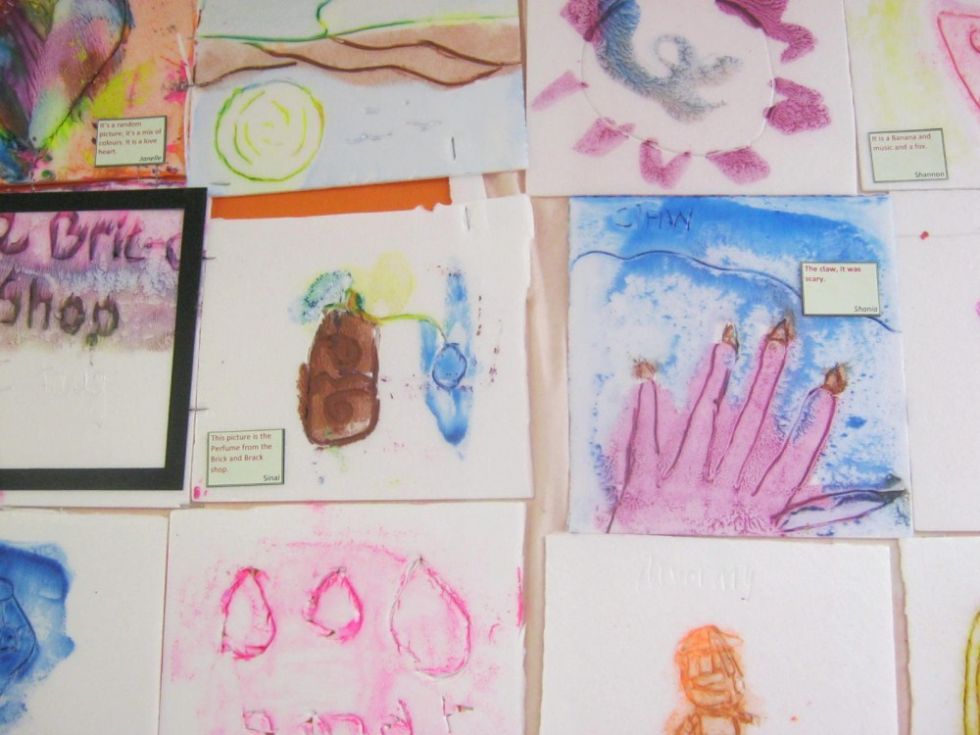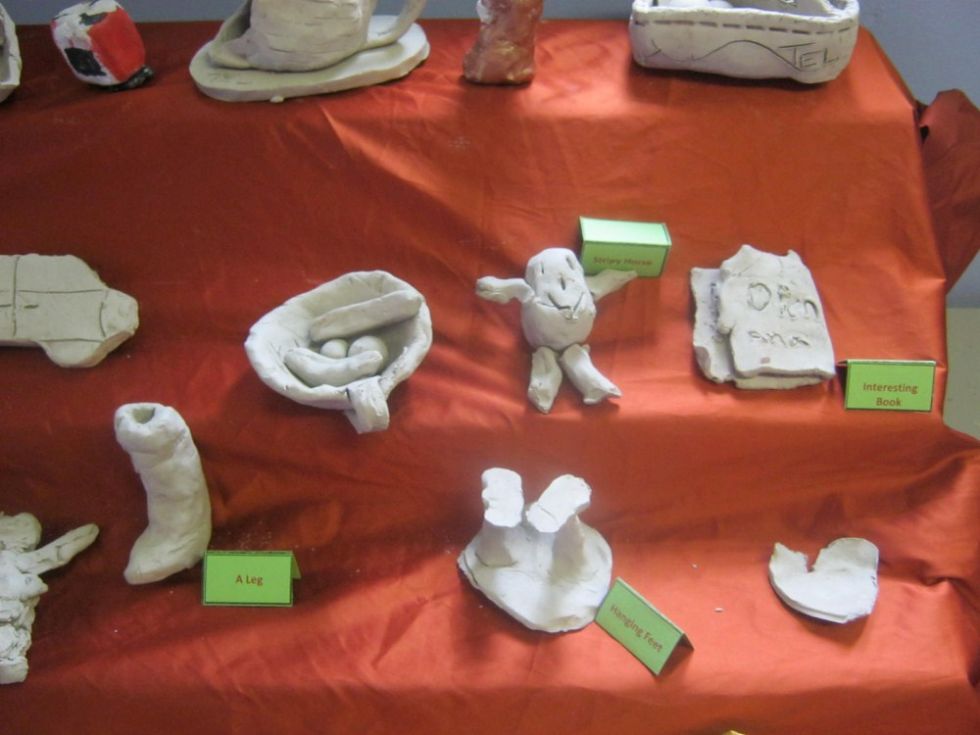 The Lost Lending Library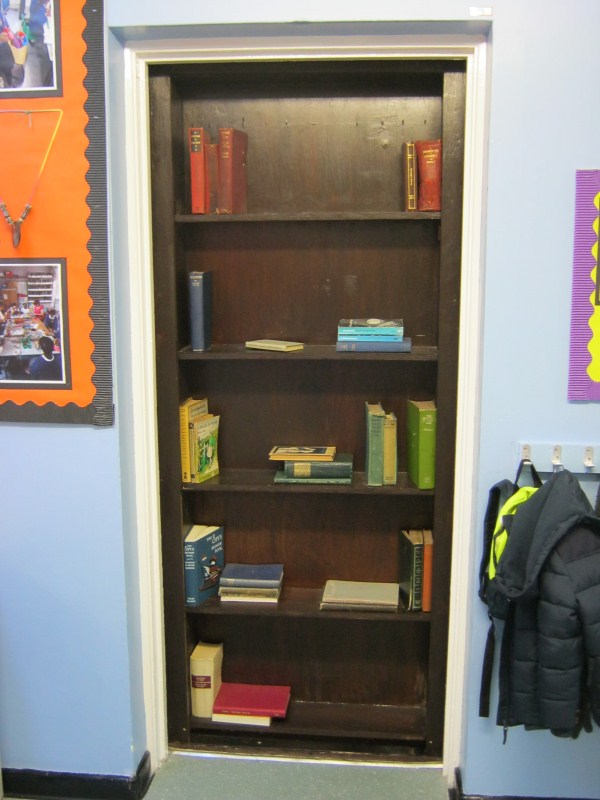 Punchdrunk returned to Kingsmead in 2014 for another collaborative whole school project. On a Monday morning, Kingsmead children and staff were amazed to find that a strange bookshelf had mysteriously appeared in the entrance to one of our classrooms. An emergency assembly was called, and our visiting librarian Petra was called in to help. Petra made a connection between the bookshelf and a strange book that wouldn't open that had arrived on the Headteacher's desk.
As the week passed, invitations to a 'Lost Lending Library' were given out to groups of children who were being recruited as story telling apprentices. Children reported the appearance of Mr. Peabody, keeper of the Lost Lending Library who told every child an enchanted story. Throughout the week we have heard tales of magic spiders, trains and Russian dolls and the school is alive with excitement.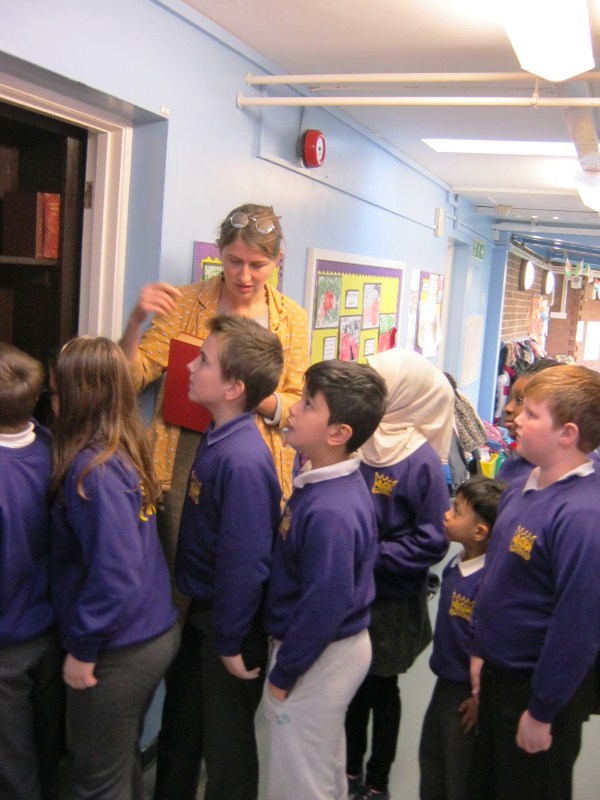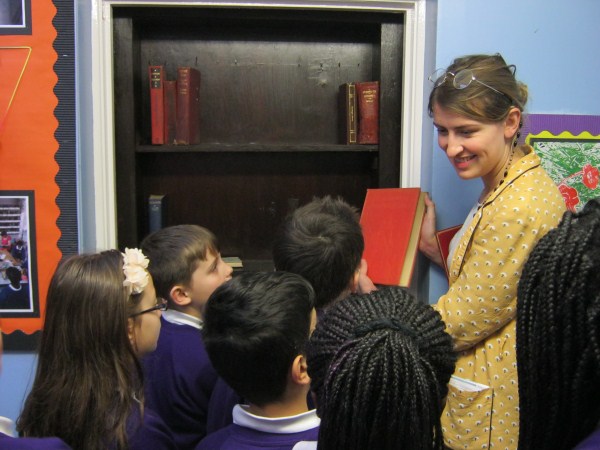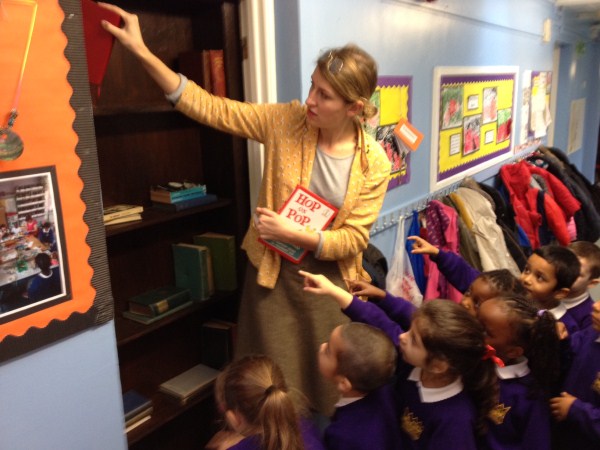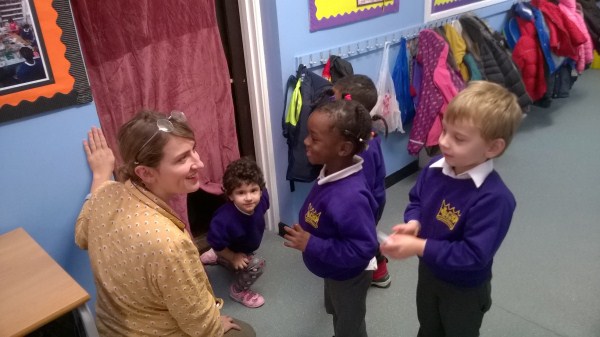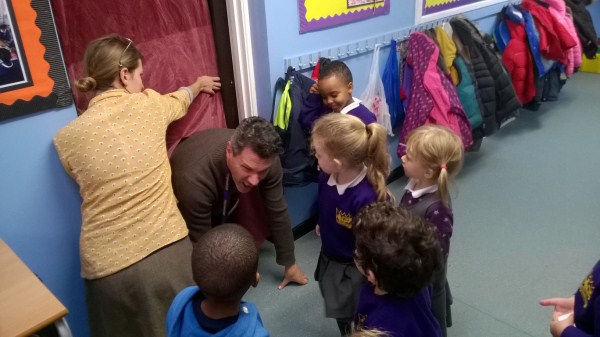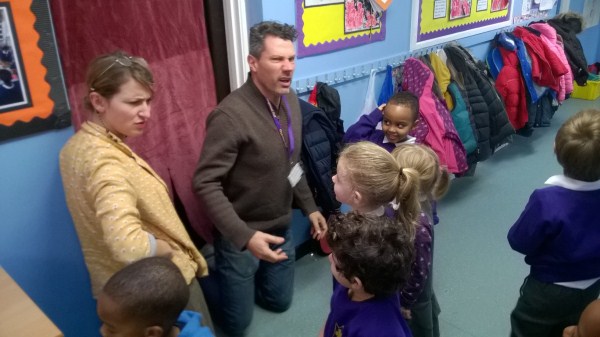 All the children followed their visit to the Lost Lending Library with time in a creative zone, specially set up for them to write, draw, sculpt and create. After two weeks The Lost Lending Library has moved on from Kingsmead, but Peabody, keeper of the Library, left a few books for the school and a note thanking the children for all the wonderful stories they created for the Library. In fact, the stories were so good, that every pupil in the school has been given a lifetime gold membership card for the Library!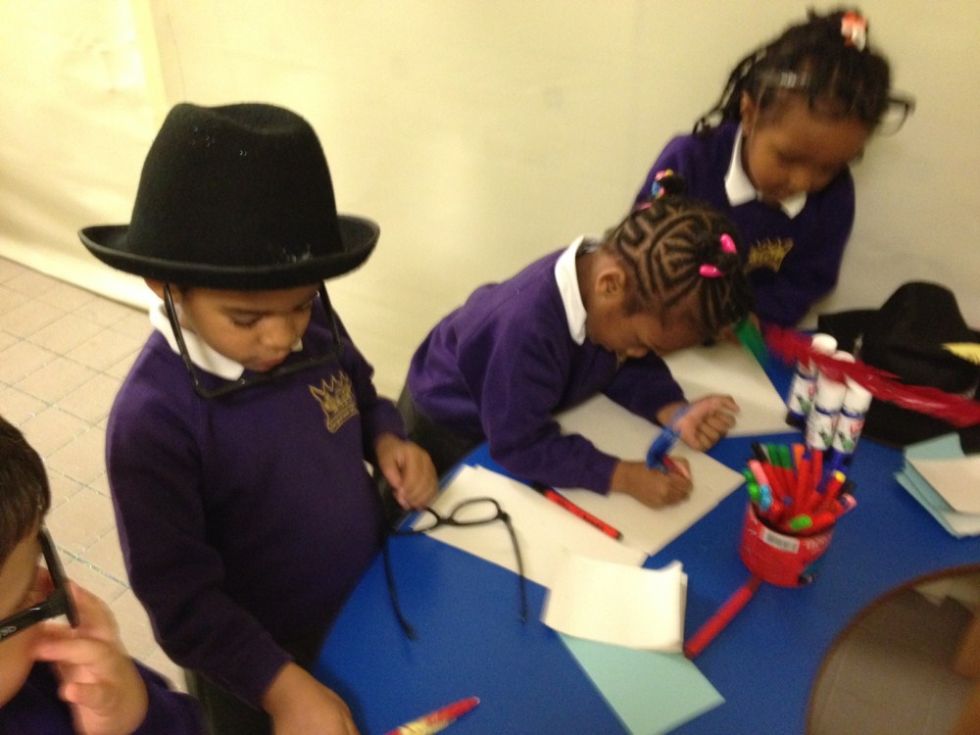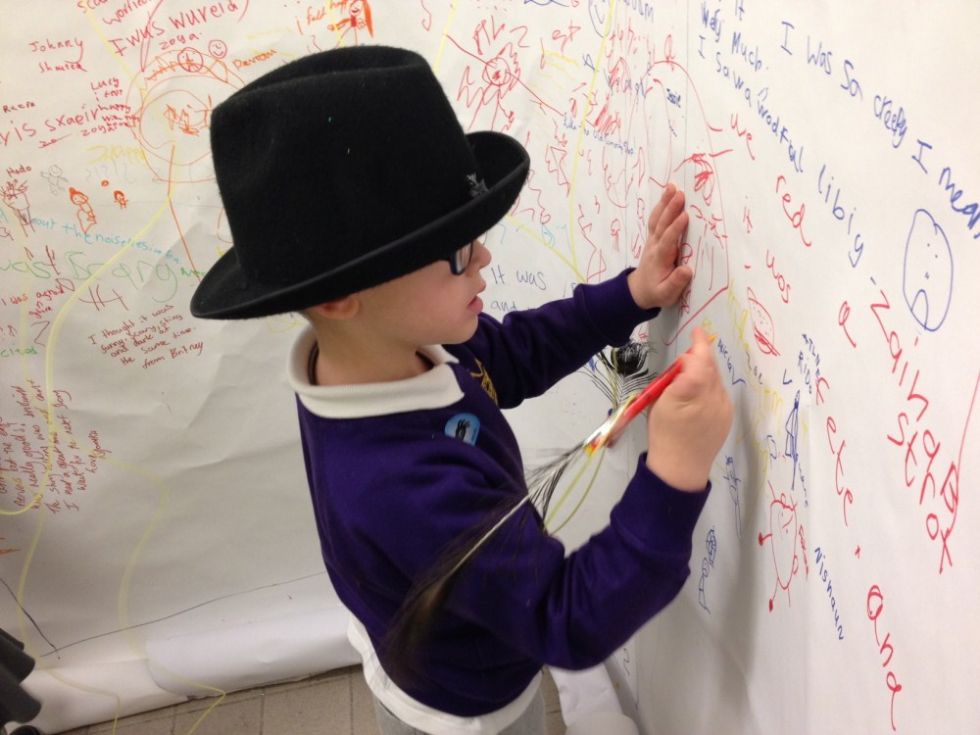 Here are a few quotes from pupils, staff and a few parents and carers who were lucky enough to visit the Library while it was here.
Pupils: "That was the best thing in my life!" yr 5 child.
"What was that? That was the best thing ever!" yr 6 child
"I've been dreaming about stuff like this my whole life" yr 4 child.
"That was the best experience of my life!" yr 3 child.
Staff: "The concept is brilliant – oral story telling being kept alive allowing the listener to fill in the gaps. To make this experience so personal for the children is an art in itself" - Teaching & Learning Associate.
"An incredible sensory experience – I was transported to a magical place and I want to go back!" - Class Teacher.
Parents/Carers: "I thought it was a magical experience for parents and kids. I've never experienced anything like it – thanks for inviting me".
"A wonderful experience and truly magical".
"Can we have another visit? All children in the country need to be inspired in such a fashion!"