Shadowball at The Mermaid
"Hackney 12-year-olds rarely get a good press, either, so let it be recorded here that these all-singing, all-strutting, all-acting boys and girls were the stars of the show."
Kingsmead children earned this review and 5 stars from the Evening Standard, when they performed in a jazz opera, Shadowball, by renowned jazz musician Julian Joseph at the Mermaid theatre in 2010. Kingsmead and Jubilee schools worked with Hackney Music Development Trust for a period of one month to perform Shadowball to a paying audience. The children performed brilliantly and learned valuable lessons about co-operation and hard work whilst gaining a deeper understanding of Black history and the history of Baseball in 1930's America.
The children and staff of Kingsmead were also trained by BSUK to play baseball and Kingsmead became the proud holders of the Shadowball Baseball cup in 2010. The staff formed a team and played (undefeated of course) against other local schools.
See a short film about how Shadowball happened by clicking here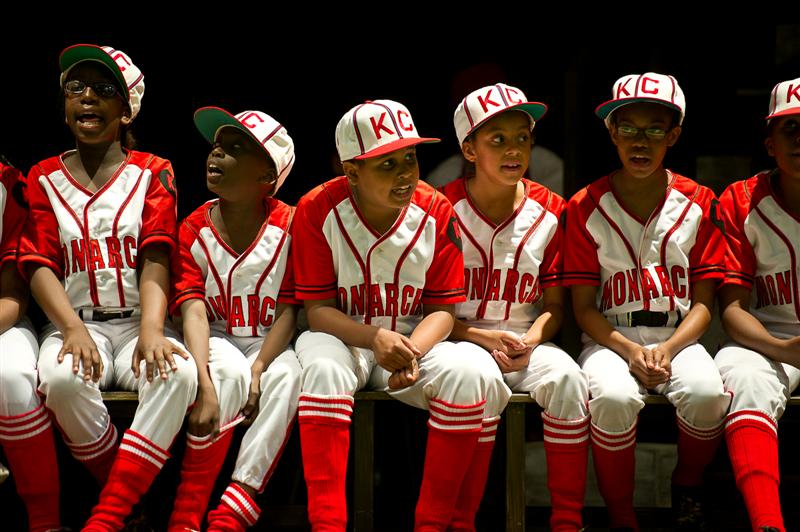 We've got no army. There's virtually nobody on our side. No owners, no umpires, very few newspapermen. And I'm afraid that many fans will be hostile. We'll be in a tough position. We can win only if we can convince the world that I'm doing this because you're a great ballplayer, a fine gentleman.
Manager Branch Rickey to Jackie Robinson on breaking the colour barrier.
Hackney Music Development Trust's Shadowball is an innovative baseball project featuring the creation of a new Jazz Opera, by composer Julian Joseph and author Mike Phllips, about Black Baseball players linked to a sports programme for primary schools, using the arts both as a learning tool for other areas of the curriculum, and to stimulate interest in this sport.

'Shadow Ball' refers to a common pre-game feature during which Negro League players warmed up by staging mock games with an imaginary ball. Though unintended, this pantomime was an apt metaphor for the exclusion of Blacks from Major League play in America for over 60 years. Using the stories of Black Baseball players in the 1930s-40s, and their jazz compatriots who often suffered similar racial prejudice, Shadowball is designed to inspire young people to achieve despite the odds. Through the project, students, teachers and families will experience the struggles of players like Satchel Paige, Josh Gibson, Rube Foster, and "Cool Papa" Bell – a generation of Black athletes who may have been among the greatest players of their time, but whose remarkable talents and achievements playing the 'National Pastime' went unacknowledged, and Jackie Robinson, who in 1947 broke the 'colour barrier' by becoming first baseman for the Brooklyn Dodgers, and helped to inspire the Civil Rights Movement in America over a decade later.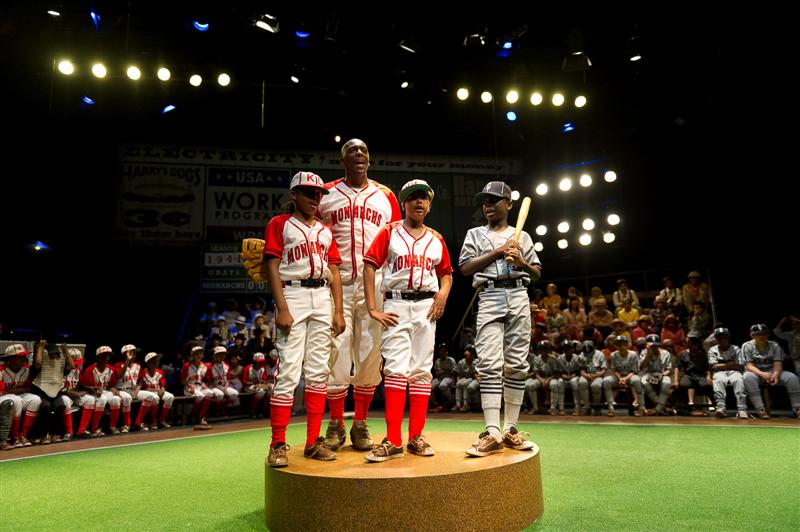 The Negro Leagues was a thriving institution, not only for sport, but also for the Black Jazz musicians connected with the game such as Duke Ellington, Louis Armstrong - who owned a baseball team, Cab Calloway - who played on one, and Bo Jangles who was known to tap dance on dugout roofs during ball games; themselves combating racism and discrimination as they battled to define a new art form.
Photographer credit for all Shadowball production photos on our website: Clive Barda
What did the press say about Shadowball? Click on the links to read the reviews.
The PDF's below produced by HMDT document the process