Wellbeing & Mental Health
Across all three of our schools in the LEAP federation we are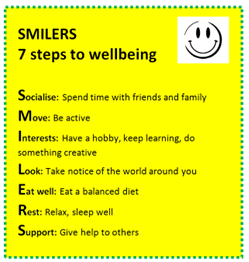 committed to supporting the wellbeing and mental health of our school communities.
We know that mental health is important for our learning and overall wellbeing so it's great to talk about it and continue to share ways we can promote wellbeing and good mental health in our school community.
At Kingsmead our Wellbeing and Mental Health team are: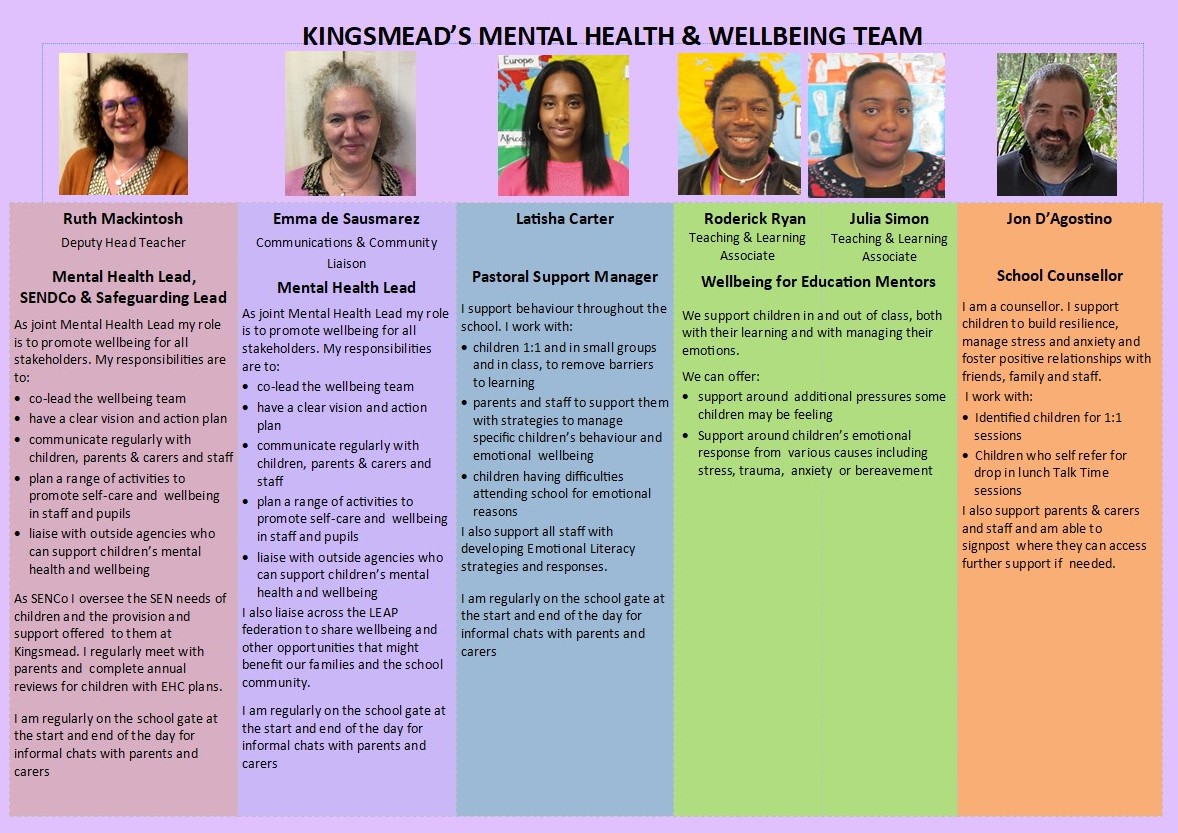 A PDF of this document showing our Mental Health and Wellbeing team is also available to download, at the bottom of this page.
ZONES OF REGULATION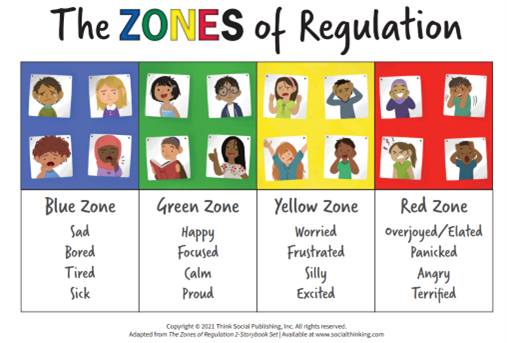 Zones of Regulation is a conceptual framework used to teach pupils self-regulation. This involves responding to feelings and what is going on, in a socially appropriate way.
Children need to develop underlying skills in order to be able to self-regulate. At LEAP we use a positive behaviour system alongside teaching children how to make better choices, so they learn what they could do differently and have opportunities to practise these skills in a safe and supportive environment.
Zones of Regulation categorises a range of feelings and emotional states which helps pupils to recognise and communicate how they are feeling in a safe and non-judgemental way. This is a neutral tool. There are no good or bad zones, everyone experiences all of the zones at one time or another so we do not praise different zones.
A key part of the teaching involved in this is supporting children to tap into strategies or tools to help them move between zones. Our behaviour is a by-product of how we manage our zone. The aim is not to change the way children feel but to help them manage their feelings and behaviours.
We have added a few simple Zones of Regulation resources that the family can use whilst sitting down together exploring how each person is feeling. You can find these Home Pack PDFs at the bottom of this page.
How parents/carers can support their child's mental health and wellbeing
Parents are best placed to notice changes in their own children and be able to support them to develop emotionally. Here are 8 key practical tips for parents:
Be aware – tune into your children and be aware of what they are up to
Identify causes – help your children to discuss feelings, name feelings and then own feelings and have strategies to help them cope with their feelings
Communicate – listen carefully to what children are saying or trying to say and offer comfort. Re-phrase what they tell you, share your own experiences and how you managed them, in age appropriate ways and encourage them to think of ways they can help themselves. You can use the Zones of Regulation as a way of supporting your child to be aware of and share how they are feeling.
Value self-reflection – model and reiterate the benefits of thinking things through. Think through with them potential impacts of different sorts of behaviour.
Encourage resilience – help children to develop the ability to deal effectively with setbacks and cope with transitions. Be clear that all feelings are real and ok to have but help discuss how you can deal with feelings that are difficult.
Foster relationships – good relationships help children bounce easily through life, whereas difficult ones can be upsetting and result in challenges. Relationships with family affect the way we feel and it's important for children to have strong connections to others
Consider self esteem – children often face uncertainties and have to cope with competitive environments and situations. Some children struggle with this. Parents can help to strengthen self esteem by encouraging and reinforcing feelings of optimism.
Remember the givens – there are certain non-negotiables for supporting, developing and sustaining well-being in children eg: unconditional love, sensible and fair guidance, connectivity, honesty, good role models, understanding
Useful links for Parents & Carers for supporting Wellbeing and Mental Health
Parenting support links:
Parenting advice from child mental health experts – Place2Be have launched a new service, Parenting Smart with practical tips for supporting children's behaviour. There is advice for parents ranging from healthy gaming habits, to dealing with sibling rivalry, to tips for calmer bedtime routines. These short, engaging videos are available here:
www.Parentingsmart.place2be.org.uk
Online parenting course – This free online parenting course has been developed by Place2Be, in partnership with SLAM (South London and Maudsley-NHS Foundation Trust), and is based on tried and tested techniques and experiences from supporting children, young people and their families. The course is designed to support parents and carers of primary-age children in their parenting journey:
General Wellbeing and Mental Health support links:
There is a great A-Z parent guide on Young Minds website for specific issues
https://www.youngminds.org.uk/parent/a-z-guide/
There is also a good wellbeing directory on the Anna Freud Website – which provides a list of free local and national organisations for anyone up to the age of 25, along with important information you may find helpful.
https://www.annafreud.org/on-my-mind/youth-wellbeing/
Hackney Local Offer Website has lots of useful links and information about local support https://www.hackneylocaloffer.co.uk/kb5/hackney/localoffer/home.page
City & Hackney CAMHS Alliance (child and adolescent mental health services) has a helpful section for parents and carers
https://cityandhackneycamhs.org.uk/how-we-help/parents/
Anna Freud Centre also has advice and guidance for parents and carers to help them support a child or a young person experiencing poor mental health or wellbeing.
https://www.annafreud.org/parents-and-carers/
Silvercloud programmes for parents/caregivers (Supporting an Anxious Teen and Supporting an Anxious Child) are available for parents to sign up to themselves. Parents can use this sign up link: Self Sign Up Link Pathway or click here to go directly to the primary school aged child link:
https://chmhst.silvercloudhealth.com/onboard/cityhackneysupportteam/programs/144/details
Safeguarding support/advice/updates for parents and professionals
https://learning.nspcc.org.uk/research-resources
Young Minds are a children and young people's mental health charity. They offer a Helpline/advice and also lots of resources for families. Young Minds provide a one-off Parents Helpline conversation with a trained helpline adviser. If needed, they can also provide you with a further 50-minute consultation with a mental health professional so that you can get more in-depth advice about your child's situation and guidance on how to access ongoing support.
https://www.youngminds.org.uk/parent/
The Young Minds A-Z guide to support has information and advice on how to help your child with specific mental health conditions, and difficult feelings & life events.
https://www.youngminds.org.uk/parent/a-z-guide/
Parenting Mental Health – Support group/resources for parents of a child with a mental health condition to get peer support https://parentingmentalhealth.com/how-we-can-help/
Family Line – Family Action: Provides information and support around family issues, as well as longer-term help through Befrienders and Counsellors.
https://www.family-action.org.uk/what-we-do/children-families/familyline/
Sleep Right is a free support service, that helps parents and carers of disabled children to improve their child's sleep. Face-to-face sessions are now available, but you can continue with sessions over the phone and online, if you prefer. Sleep Right typically lasts for 6 sessions.
https://www.scope.org.uk/family-services/sleep-right/
Finally here are some great apps for children and parents:
CALM HARM - self-harm support for children of all ages
CLEAR FEAR - anxiety support for children of all ages
COMBINED MINDS - this is the parent accompanying app linked with CALM HARM and CLEAR FEAR